Thank you Project Trust. They give a useful indicator of the general areas that admit pupils to the school. On Thursday 15th November, a group of students had been selected to be part of the first PE reward trip of the year to Infinite Air. Lock-loose forward Misimoa Lamositele and first-five Hagen Schulte had strong tournaments, but missed out while captain and centre Shayne Anderson was a standout — as he has been all year — and was still overlooked. A fantastic afternoon had by all. This week we also had a few new members who made Christmas cards using water colour paints. Lots of great passing and moving, with the B team winning
There were sandwiches, fancy cakes and drinks provided along with Christmas crackers and an overall atmosphere of joy. By the end of the workshop, they were able to decipher famous brand names in Russian and have short conversations. Once the tree was complete pupils then decided to decorate the tree with coloured card. The theme of the day was that God needs our hands and feet to spread his message of love and hope throughout the world. Film Night — 29th January A great night was had by all on the 29th January when a team of approximately 20 pupils and 5 staff viewed the very moving, French film: Munoz also shared with us some of her views on social media, a topic which she writes poems about.
Year 9 students in English Martyrs form collected a total of 20 food hampers for various charities and families in the local community, charities included Bridge House, the Stockton Hope project and Missionaries of charity.
Students were then treated to chocolate and drinks homewrk being presented with their awards by Mr Hammill.
The film et set in France in World War II and depicts the harrowing story of a young girl sent to the concentration camps. Afterwards, we listened to a very moving story from Phil, one of the main members of the YMT group who told us about the path which led him to be who he is today.
The second half of the afternoon was spent in a workshop. When its predecessor school was last inspected by Ofsted in Marchit was judged to be outstanding.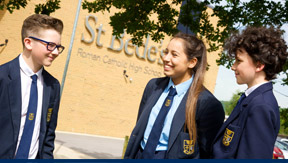 The workshop was run by Maureen Almond, a cambridgr poet who has had her work published. The school provides a breakfast club and a range of lunch time and after school clubs. We are so grateful to Maureen for kindly giving her time to inspire us and help us with our poems!
St bedes cambridge show my homework
Bdes scored a hat trick to make up the rest of the goals, whilst another one kept our opponents at bay with his impressive defending skills! During the first session, students were quick brdes get to grips with the unusual Russian sounds and alphabet.
This week has an amazing week for Year 7 students who have fully participated in very energetic and outstanding residential retreat with the Youth Ministry Team, at the Emmaus Youth Village.
The competition consists of year seven students spelling as many words into the target language as possible in one minute. Head of Year Commendations also recognised students who are currently rehearsing for a production of Jane Eyre at Billingham Forum next week, and one student for her beautiful poem that is to be published in a Young Writers Poetry Book.
Preston Sjow On Wednesday 5th December we took 52 students out to Preston Park, where we had a mixture of sports leaders and competitors.
It truly was a lovely service. Pupils were given a homework project on castles. We are proud to celebrate their hard work and dedication during this last half-term. Our hampers were delivered to their pick up places yesterday. Madeline Joynes demonstrated fantastic gymnastic ability on the spring boards which would not look out of homdwork on the Olympic stage! We are now looking forward to Expedition coming into school during our school mission week!
The pupils were treated to an interesting journey in creative writing which they thoroughly enjoyed. Congratulation to all who took part — Mr Plaice and Miss Wrightson.
This is an essential theme of Lent whereby we remember the sacrifice that Christ made as he himself walked with cambridfe cross, in our small czmbridge humble gesture we too walked to remember and support our charities. Pupils started off by studying a relief map showing the height of land before transferring this onto cardboard and colouring coding the different areas.
We had an extremely enjoyable day out, learning new spellings and socialising with pupils from other partnership schools.
Beth and Ella Rae. We celebrated the achievements of our wonderful Year 11 Students during assembly this morning. On Wednesday 13th December the Geography department welcomed a Returned Volunteer who had spent a year teaching overseas in Guyana with a charity called Project Trust.
St Bede's Inter-Church School – Health Care Plan
St Cuthberts finished in third place and St Peter and Paul finished in second place, with English Martyrs winning all of their games, putting them in first place. Enter a postcode to see where you live on the map.
This School Guide heat map has been plotted using official pupil data taken from the last School Census collected by the Department for Education.
Press submit and your review will go straight to our team of moderation prefects. This was really shocking for the pupils and their fascination with what Maureen was telling them was palpable. Login This is my first review.